Skip to content

14th February 2022
L Wood Insurance Brokers – Caravan and Lodge Scheme Risk Capture Portal
L Wood Insurance Brokers are a third generation commercial insurance brokerage based in Bingley, West Yorkshire.
The firm has specialised in providing insurance solutions to different types of businesses for over 60 years, but it also has a long standing caravan and lodge insurance scheme which is underwritten in-house. They have successfully built their scheme by forming partnerships with holiday park operators and by providing a highly personalised service to individual caravan and holiday lodge owners.
L Wood came to Bright Spark Broker Tech as they wanted to modernise the application process for their customers but they also wanted to make it easier for holiday park operators to promote the scheme to individual caravan and lodge owners.
Whilst seeking a technological solution, throughout the sales process it was important to L Wood that they maintained that personal touch that has been key to the firm's success. They wanted to be able to advise and guide the customer through the journey rather than just presenting a price online.
Bright Spark Broker Tech listened carefully to L Wood's specific requirements and after much brain storming and collaboration we developed and delivered an "L Wood" branded digital "Risk Capture" portal.

New customers are now able to request a quotation by simply scanning a QR code, advertised by holiday park operators, with their smart phone camera. This takes them to the portal where they can submit details of their caravan or lodge to L Wood, in the format required to underwrite each risk.

The efficiencies created by the new portal will allow L Wood to deal with a greater number of enquiries, giving the scheme more scalability. However the portal will also bring a number of valuable compliance benefits. For example, a digital record will be created to evidence that the customer has read key compliance messages and importantly, that they have accepted L Wood's terms of business.

L Wood are delighted with their new portal and have already produced some fantastic marketing literature incorporating their QR code, for their park operator partners to distribute: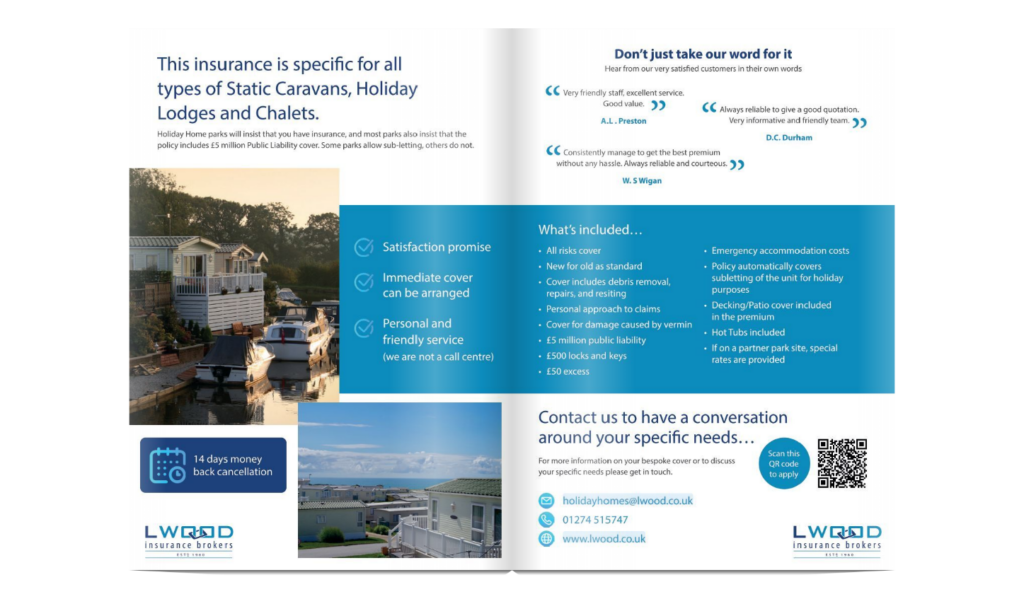 Tom Wood, L Wood Managing Director, said;
"L Wood Insurance Brokers are consistently investing in technology and we are always looking for new ways to make insurance simple for our clients. The Bright Spark digital solution certainly delivered this, but with the added benefit of providing us, the broker, significant time savings in collecting relevant risk information, in a consistent and FCA compliant manner. This allows us to focus our time on doing what we do best, giving quality risk management advice to our clients.
"The team at Bright Spark Broker Tech talked our language and understood our needs from the outset, making the entire process, from conception to delivery, an enjoyable experience. We very much look forward to working with them again on future projects."