Skip to content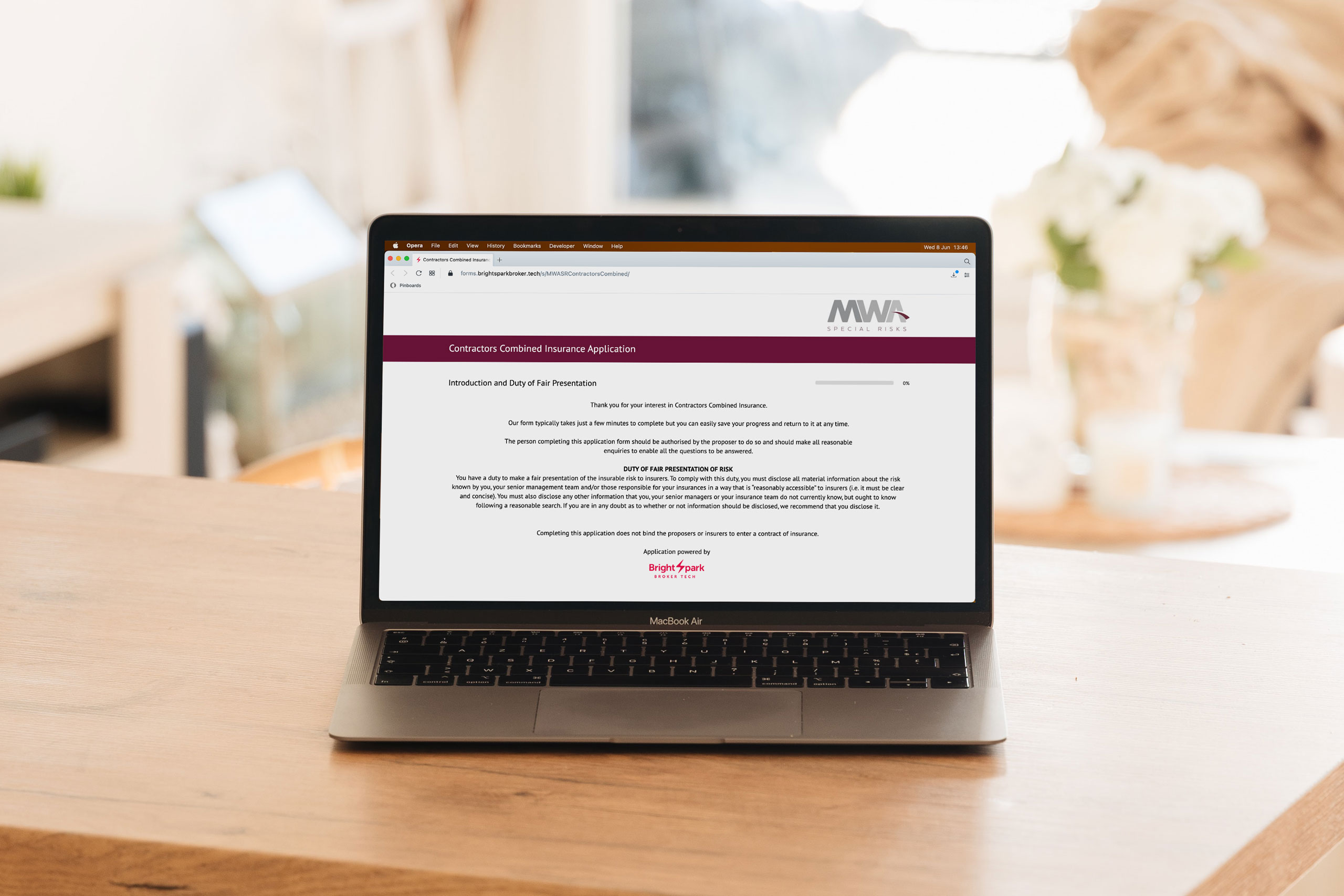 8th June 2022
MWA Special Risks 'Risk Capture' Portals
MWA Special Risks (MWA) are a London based commercial insurance brokerage with offices in Mayfair and Chingford. The firm is a member of Willis Towers Watson Networks and specialises in providing bespoke insurance solutions to clients across the UK and internationally.
MWA was set up in 2020 by an experienced team of insurance professionals who have held senior positions at national and global insurance broking organisations. Due to the high level of personal service they provide to their client base, the firm receives most of its new enquiries from client recommendations. Because of this success, the firm has experienced significant growth over the past two years.
As the company has grown, the management team at MWA wanted to streamline a number of their key processes and they identified that a particularly labour intensive area within the business was the 'risk capture' (or fact finding) process. It seemed apparent to them that this process could be improved to benefit both them and their prospective clients.
Through Willis Towers Watson Network, MWA were introduced to Bright Spark Broker Tech as we had already created a number of digital solutions for other Willis Towers Watson Network members.
One of the key considerations that MWA conveyed to ourselves was that they did not want to push their prospective clients down a 'Quote and Buy' channel. MWA wanted to be able to review all information provided by their prospective clients and have the opportunity to intervene with valuable advice and guidance throughout the process. MWA also recognised that there is a ceiling to the premium levels that policyholders are willing to pay via a 'Quote and Buy' channel, but with the right blend of technology and traditional broker advice, the premium levels achieved would be significantly higher.
After a period of consultation MWA appointed Bright Spark Broker Tech to deliver the project. We carried out a review and identified a number of classes of business which could immediately benefit from a Bright Spark digital solution. These included:
Contractors Combined Insurance
Commercial Combined Insurance
Commercial Property Owners Insurance
Business Travel Insurance
Property Owners Liability Insurance
Residential Landlords Insurance
Blocks of Flats Insurance
High Net Worth Home Insurance
High Net Worth Motor Insurance
For each class of business listed above, Bright Spark Broker Tech designed and built an MWA branded digital risk capture portal.
When a new enquiry is received, MWA have an initial discussion with the prospect to understand their needs. They then follow up by sending the prospect a link to the relevant portal (the portals can also be linked to the MWA website).
Once on the portal, users are guided through a carefully constructed set of questions. The questions are intuitive and conditional so that only relevant questions are presented to the user. Where appropriate, users are presented with multiple choice options, so that the amount of typing (and therefore time taken to complete a submission), is drastically reduced. Users can easily save their progress at any time and return back to the portal at a later date to complete their submission. These features make the portals simple and easy to use and enhance the user experience.
Once the risk information is submitted by the prospective client in the portal, they are presented with a message stating that the MWA team are reviewing the risk information and will be in touch shortly. They are then redirected back to MWA's website.
At the same time MWA automatically receive an 'insurer friendly' broker presentation, via email, to review. In the vast majority of cases, due to the structure of the risk capture questions, these broker presentations are ready to go to market.
The portals can also be used by MWA personnel, to gather risk information manually from clients, in person or over the telephone, in a consistent manner.
The benefits of this technological solution are numerous:
Efficiencies gained in collecting risk information from prospective clients
Efficiencies gained in creating broker presentations
Consistent risk information is always collected
Consistency of broker presentations (benefits the insurer and therefore the broker)
Professional and simple journeys for prospective clients
FCA Compliance – IP addresses are recorded to evidence who has provided the risk information. A record is also kept to confirm that the insured has read and accepted the broker TOBA
Michael Ward, MWA Special Risks' Managing Director, said;
"As a forward thinking modern insurance brokerage, we're delighted to invest in new technology which benefits our clients.

The digital solutions provided by Bright Spark Broker Tech are already providing us with operational efficiencies, and we look forward to working closely with them to help scale our business as we continue on our growth journey"