Skip to content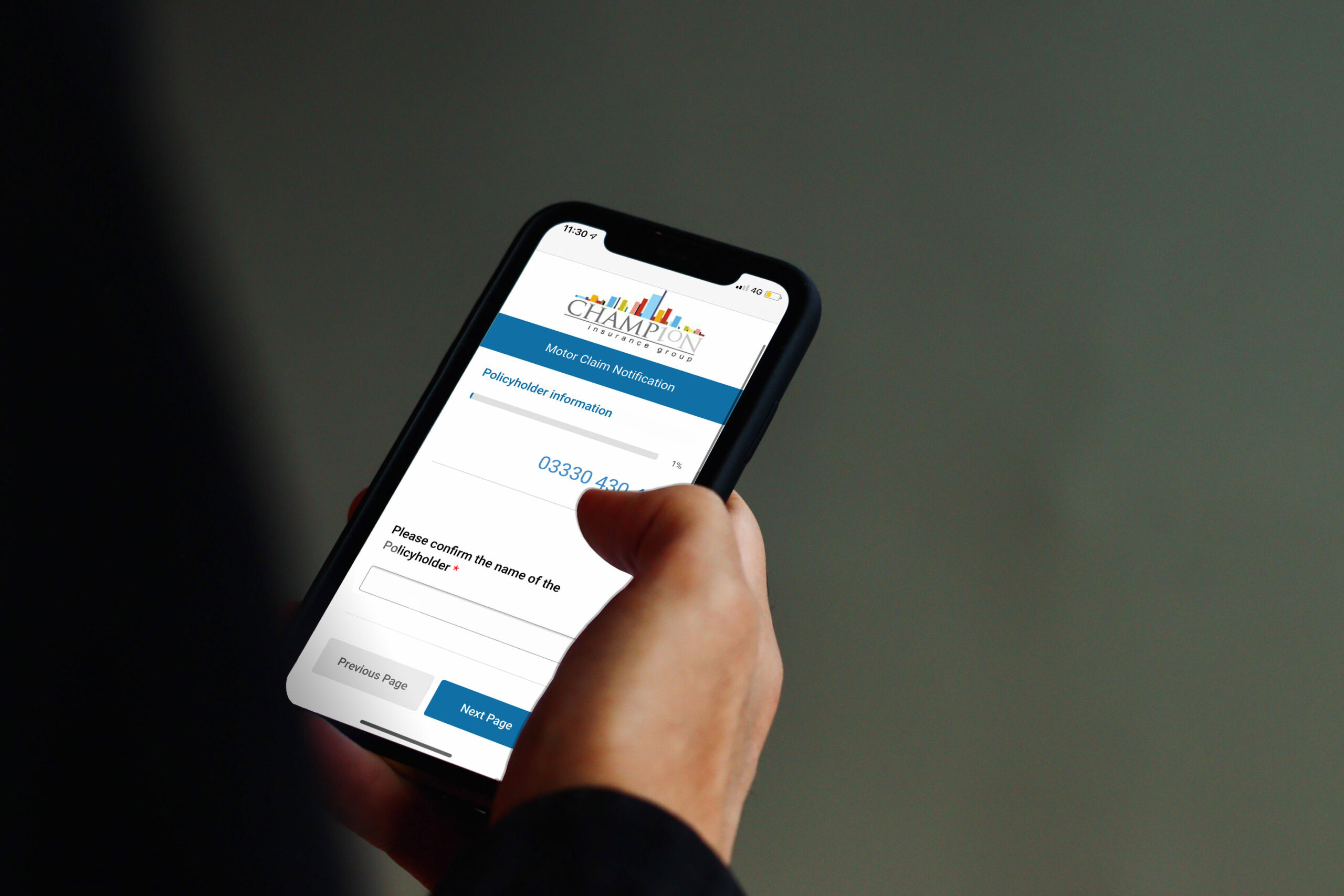 5th January 2022
Champion Insurance Group – "iWitness" Motor Claim Notification Portal
Champion Insurance Group Limited (Champion) is a leading regional Chartered Insurance Broker that provides a range of insurance solutions for businesses, property owners and private clients across the UK.
Champion has a large number of motor fleet insurance clients and regularly assists their clients in the reporting of motor accidents to insurers. Champion wanted to simplify the claims notification process for their clients and for their own internal claims team using a unique digital solution. Champion also wanted to significantly cut down on the administrative burden placed on them and their clients when reporting a motor claim.
Our brief was to create an elegant solution, which was simple to use and importantly easy for clients to access. To encourage client take up, it was paramount that the platform required little configuration, and no technical knowledge or training.
We got to work, and with input from Champion throughout the process, we built and delivered "iWitness", a unique, feature rich, hosted Motor Claim Notification Portal.
One of the most innovative features of the Motor Claims Notification Portal was the use of "QR Code" technology. QR (Quick Response) codes are nothing new, remarkably they have been around for nearly 30 years! However, only in recent 'Pandemic times' have we seen mainstream adoption of the technology, particularly in restaurants and bars for digital menus and table service ordering. It therefore felt like the perfect time to include this tech in one of our projects.
In an industry first, Bright Spark Broker Tech designed and produced QR Code "Bump Cards" which would allow insured drivers to report claims quickly and easily at the roadside simply by scanning a QR code with their smartphones.
These Champion branded credit card sized "Bump Cards" are now issued to drivers of Champion's motor fleet insurance clients. Drivers are instructed to carry these cards in their wallets, in their glove boxes or in the sun visor of their vehicle. In the event of a motor accident, the driver is instructed to scan the QR code using their smartphone. This immediately takes them to the iWitness Portal which provides step by step instructions to the driver and allows them to submit accident information in real time, including the ability to upload images and videos from the scene directly from their smartphone.
The Champion branded bump cards, now in heavy circulation, are an excellent tool for brand awareness leading to more enquiries from prospective fleet clients.
In addition to QR code access the portal can be accessed by a standard URL so that office based staff can also report claims.
Sticking to our brief of keeping things simple and easy for users, the portal only asks relevant questions depending on the user's previous answers, which minimises the time it takes to complete a claim notification.
Once accident information is submitted to the portal, a claim report is automatically generated and emailed to the client and to Champion. The claim report generated is in a format accepted by insurers and so it can be forwarded on with no editing required. Additionally Bright Spark can configure the email settings on the Portal to broker requirements so that claim reports can be automatically sent to pre-defined email addresses.
So that Champion could market iWitness to their clients and prospects, we produced a short video for use on social media channels. The video was a great piece of content to strengthen their brand but it also gave a quick overview of all the portal's features. You can watch the video here:
iWitness has been very positively received by Champion Insurance Group's motor insurance client base and is proving to be a really valuable asset for Champion in differentiating themselves from other brokers.
A full list of iWitness features include:
Mobile optimised portal
Broker branded (colour scheme/logos) portal
Broker branded QR code 'Bump Cards' (designed, printed and delivered to Champion) – maximising broker brand awareness
URL Access for desktop users (office based staff e.g. fleet managers submitting claims info)
"Save and Continue" functionality – users can start a form and return back to it later on to complete
Easy upload of photos & videos functionality
Response driven questions – only relevant questions are presented to the driver/user simplifying the process and minimising completion time
Instant creation of claim report which is automatically forwarded to broker/client

This has been an exciting project from start to finish and we are proud to have developed such an innovative and unique end-to-end solution (including software development, print, and video production) in a short space of time.
If you are looking to enhance your broker's digital offering, we'd love to talk to you. Please don't hesitate to get in touch.